Compaction Equipment​
VMT860
Designed to make things easier in your world
Maximum Operating Weight
8750 kg
Maximum Engine Power
56 kW
The JCB VMT 860 road roller is designed to offer high productivity and reliability with maximum operating economy. The ideal combination of static weights, centrifugal forces and amplitudes makes this asphalt roller perfect for a wide range of both soil and asphalt applications, from rolling sub-base to finish rolling.
Thanks to excellent manoeuvrability and a compact design, VMT 860 compaction rollers are also ideal for a wide range of workplaces, including yards, access roads, residential streets, car parks, roads, highways and airports.
Weighing 8750 to 9250 kg and powered by a highly efficient JCB Dieselmax 63 kW motor, the VMT 860 is our largest tandem road roller. It has an operating width of 1675 mm and generates a centrifugal force of 71 kN. There's an adjustable seat for comfort and productivity.
1675 mm operating width
63 kW ultra-efficient JCB Dieselmax motor
Versatile performance for a range of environments and surfaces
Single-piece circular eccentric shafts
Switchable drum vibration
High water and fuel tank volumes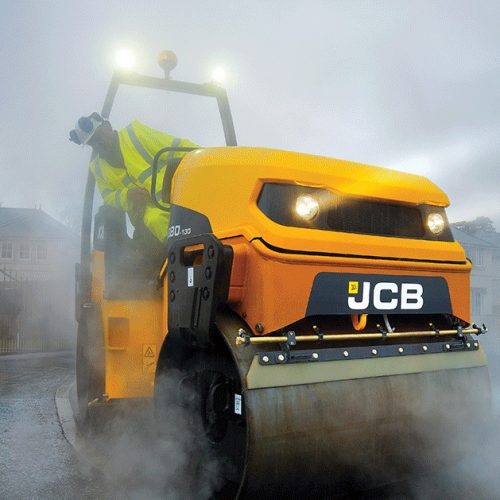 To ensure maximum productivity, we've designed the VMT 860 road roller with performance to the fore. That's why it comes equipped with concentric machined drum surfaces, a pressurised filtered water spray system, the largest fuel tanks in the industry, and automatic vibration control with manual override.
JCB Dieselmax power means maximum horsepower and torque at low revs for efficient running and fuel savings.
Not only that but this asphalt roller has single-piece circular eccentric shafts for high performance and durability, a high vibration frequency for fast rolling speeds, and a high curb and side clearance. Hydrostatic front and rear drum propulsion makes the VMT 860 road roller even more productive. There's even switchable drum vibration; choose from double, single front or single rear configurations.
The unique amplitude setting allows higher compaction output on asphalt base courses or soil and a smoother finish on asphalt binder and wearing courses.
The flush drum frames protect the hydraulic installations on the drum and lower the centre of gravity as well increasing the machines' lateral stability significantly which is important on roof road profiles.
To keep the VMT 860 road roller productive for longer, we've designed it to be easily serviceable and highly durable. That means comfortable driver stands with extremely low vibration levels, front-to-rear-frame oscillation for stability, oil splash lubricated vibration bearings, class-leading service access (including a lightweight hood), maintenance-free centre joints, and exceptional hose and piping protection.
There's also spring-applied, hydraulically released parking brakes and spring-loaded, adjustable vulcolan scrapers on each drum. What's more, to make sure every VMT 860 road roller is ready to roll when it leaves the factory, we bench test each individual machine as part of an intensive test-run.