Operating Weight
6,355 lbs 2,883 kg
Operating Capacity
1,550 lbs 703 kg
Net Engine Power
56 hp 42kW
The 155 comes with ergonomic controls, an extremely tough powerful boom and low cost of ownership. It has on average 60% better visibility and a 46% larger cab than rival manufacturers' compact skid steer designs.
Class leading safety
Class leading visibility
Large, comfortable, ergonomic cab
Class leading serviceability
Lower cost of ownership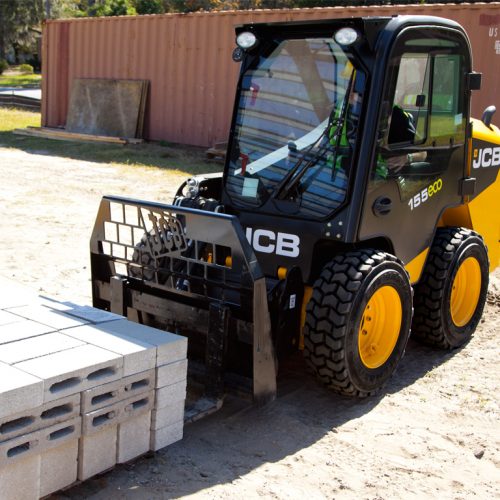 * – based on 50 weeks per year and 35 hours per week.
There's no more productive compact skid steer than the JCB 155. The figures speak for themselves: it has a 16% lower cost of ownership than the top competitor, a better SAE service rating, an annual fuel savings of over 2450 litres* and a heavy-duty crowd ram that's nearly 3 times the size of the nearest major competition.
There's a standard mechanical quickhitch and auxiliary couplers on the PowerBoom too. In short, it's as productive as a compact skid steer gets.
* – based on 50 weeks per year and 35 hours per week.
Fast entry and exit speeds
Side entry makes a JCB skid steer 17% quicker in applications requiring multiple entries and exits, such as some agricultural tasks.
Keeping your operators fresh, focused and productive is paramount, which is why we've designed the 155 skid steer with a 46% larger cab than the nearest competitive machine. Our standard seat has mechanical suspension and there's also a 12V charger, easily readable control panels and an electronic hand throttle.
Electric controls make handling smooth and intuitive; all in all, we like to think the JCB 155 skid steer is a comfortable favourite with operators.