Engine Emission
Fuel Optimised
Engine
JCB Diesel by Kohler
At the heart of this generator range is the JCB Diesel by Kohler engines. JCB's engine range ensures tried and proven performance, economy and low noise to support you daily in any application.The G20QS to G45QS models are fitted with top-notch componentry to compliment the engine, including Mecc Alte alternators and a standard-fit Deep Sea Electronics (DSE) control panel to maintain high performance, even in these smaller power generators.
Ensuring a quiet, smooth operation with a canopy option for all models
Fitted with premium componentry including Mecc Alte alternators and deep sea electronics
Lightweight product with multiple lift points
Hinge design prevents dust ingress but allows doors to be removed when open
Compact dimensions allows the generator be installed in many applications
All steel construction with no plastic components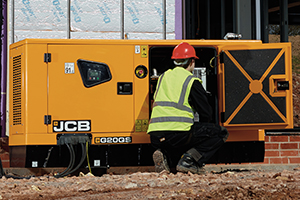 Our largest compact model boasts a turbocharger and 4 valves per cylinder for high power performance.
JCB's Diesel by Kohler engine provides power to the G20Qs-G45QS range of generators - that means you can expect superior performance, low fuel consumption and increased efficiency.
Mecc Alte alternators are among the most efficient on the market, and all of our generators are fitted with them as standard.
The compact canopy minimises logistics costs for dealers and customers alike and reduces space requirements when installed on site.
Our largest compact model boasts a turbocharger and 4 valves per cylinder for high power performance.
The 20-45QS are the smallest models in the new QS range, delivering compact dimensions and a class leading width to enable multiple units to be transported together.
There are four lifting points on the G20QS to G45QS generators, ensuring superb manoeuvrability and maximum control.
Phosphate dipped and 9stg powder paint finish for excellent corrosion and UV resistance.
All new models feature multi-stage, fuel filtration ensuring the machines are protected against lower quality fuels.
The QS range is designed with all steel and no plastic components ensuring the quality and longevity of our product.