Telescopic Lift Truck​
TLT30D
The World's Only Telescopic Counterbalance Forklift
Maximum Lift Height
5.15m
Capacity at 2m reach
2000kg
Maximum Lift Capacity
3000kg
The TLT30 counterbalance forklift is a strong and exceptionally versatile performer. Weighing between 4900 and 5380 kg (depending on spec), these industrial forklifts have a choice of diesel or LPG engines, standard or heavy lift booms and even 4WD.
A 35.6 kW engine is fitted to the diesel forklift and a 43 kW one to the LPG model. Lift capacity is 3000 kg and lift height is 5.15 m on our High Lift machine.
Our telescopic boom forklift design has a wealth of benefits, not least the fact that, because the long reach enables single side truck loading, you could save up to 50% loading space in congested yards. That space can, of course, be used to create pedestrian zones in yards. What's more, the long reach also keeps operators clear of hazardous environments like furnaces or chemicals.
In short, the TLT30 counterbalance forklift raises more than just loads; it raises the standard for all forklift trucks.
35.6 kW diesel or 43 kW LPG engine choice (or 46 kW diesel on the High Lift option)
High Lift option for increased lift height
3000 kg lift capacity and 4m lift height (4 m for 4WD option or 5.15 m for High Lift option)
2.39 m forward reach (3.32 m for High Lift option)
Easily-accessible components and service check areas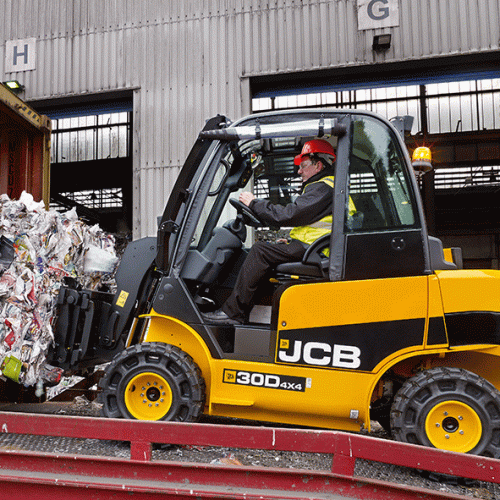 The JCB TLT30 counterbalance forklift provides yet more productivity improvements by virtue of its operating environment. The excellent visibility bestowed by the telescopic boom, for example, means that cycle times are fast and safety levels are high. When the boom is retracted, visibility to the fork tips during loading is superb.
The cab structure of this counterbalance forklift is both ROPS and FOPS compliant, 1 rear and 2 front worklights are fitted as standard, and daily check points are grouped behind the side access door to the engine bay.
The JCB TLT30 counterbalance forklift has productivity built in. The optional LPG engine can save thousands on fuel over time, while a fully enclosed hydrostatic drive system eliminates common exposed drive shaft and external brake problems.
The TLT30's 4WD option is unique to JCB (only available on diesel forklifts) and makes it perfect for workplaces where traction is limited.
What's more, because our industrial forklifts don't have a conventional forklift mast, fork tilt is increased to 111° for exceptional loading and unloading performance.
The TLT30 counterbalance forklift also benefits from a fast, easy attachment changing system; switching between attachments can be done in under 30 seconds, saving both time and fleet operation costs.